Welcome to BACS — the Bedford Arts and Crafts Society of Bedford, Massachusetts, USA.  We offer Programs open to the public, Classes, an opportunity to Showcase your artwork and the camaraderie of new and continuing friendships.
Winners announced for the art show:  Congratulations to all the first place an honorable mention winners.  The winners are 
Watercolor: Patricia MacQueen
Oil/Acrylic/Pastel: Claire Anderson
Drawing: Patricia MacQueen
Print: Maria Green
Sculpture / 3-Dimensional / Fiber Arts: Stephanie Davidson
Photography: Bob Bass
People's Choice:  To be announced Saturday, September 23, in the evening
For a list of all the winners click here and for a list of all the participants click here.  Thank you to all that participated and please come view the show Saturday, September 23, 9am-2:30pm.  Stay tuned for the People's Choice winner to be determined by popular vote Saturday.
Silent Auction: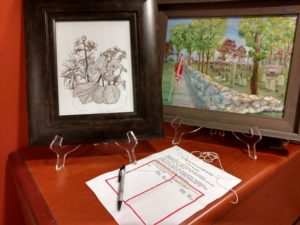 BACS is pleased to offer two lovely pieces of original art for silent auction sale.  One is a pen and ink drawing of a plant arrangement by artist Sue Funk http://www.suefunk.com/ .  The other is an oil painting of the Old Burying Ground in Bedford, featuring the stone wall so many children enjoy walking on top of, by Bedford artist Laura Wallace http://twallace.net/art/.  Starting bids for each are $25.  To bid on either, stop by the Bedford COA in the Town Center Building and write your bid on the sheet provided, or email silentauction@bacsma.org.  Current bids:  Plant ink drawing – $25;  Old Burying Ground – $30.  The art will also be on view Friday and Saturday, September 22-23, at the annual Regional Art Show, Town Center Building.  Bidding will close at 2:30pm on Saturday, and the winner will be called.  All proceeds support the BACS annual scholarship.

Bedford Day Annual Regional Art Show:  Friday, September 22, 2-4; Saturday, September 23, 9:30-2:30; There will also be an outdoor BACS booth with handcrafted art items for sale:  beautiful sea glass jewelry, original cards, knitted and crocheted goods, and more.  To view the website's Bedford Day page, click here. More details to follow.
Wednesday Crafting at the Bedford Council on Aging

Join BACS members for informal crafting on Wednesdays, 2:00-4:00 pm, at the COA.  Socialize, learn, and enjoy. Open drop-in. No cost for BACS members.  Nonmembers will pay a small fee if they are taking their creations and using BACS materials.  Coming next:
Sept. 20.  Painted Rocks

Sept. 27.  Experiment with Crochet

Oct.  4.     Bring Your Own Project or Crochet

Nov.    1.   Holiday Cards
Programs for this coming fall and spring all all lined up!   Click here to find out more
Recent crafts we enjoyed include quilling, card making, paper bead crafting, and wire wrapping. See examples below!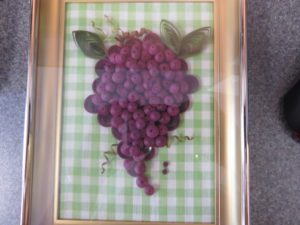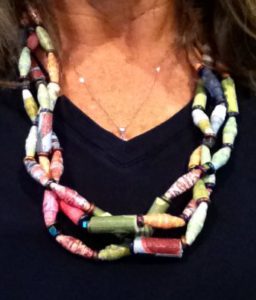 Hand-crafted paper beads made into a necklace
2017 BACS Scholarship Winner
Kelsie Patterson of Bedford is the recipient of the 2017 BACS scholarship. Kelsie will be attending Salem State University in the fall. Kudos to Kelsie on her graduation and this award, and best of luck from all of us at BACS.
.
---
Contact Info: Bedford Arts and Crafts Society, P.O. Box 604, Bedford, MA 01730   Email:  info@bacsma.org
Copyright Notice:  © Bedford Arts and Crafts Society, 2017-2018. Unauthorized use and/or duplication of any of this material or downloading of any images without express and written permission from the artist and/or owner is strictly prohibited. Excerpts and links may be used, provided that full and clear credit is given to the Bedford Arts and Crafts Society with appropriate and specific direction to the original content. No images may be downloaded or used in any manner.
---