Three watercolors by Sue Iozzo are currently on display at the Short Stop Cafe, 54 Loomis Street, in Bedford.
Judi Babcock's painting Underwater was selected for Concord Art's 2018 Members' Juried I show featuring painting and sculpture. The show runs from January 11 through February 10.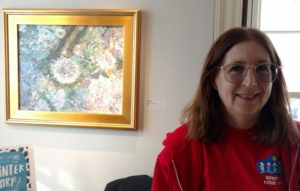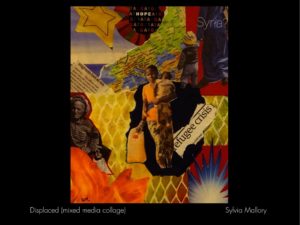 Congratulations to Judi Babcock, Sylvia Mallory, Victoria Roark, and Laura Wallace, whose work is on exhibit in the new juried  show "Migration" at Grace Chapel, 59 Worthen Road, Lexington. The exhibit will run from January 20 through February 25 and may be viewed on Thursdays from 2:00 to 5:00 pm. It is also accessible on Sundays, during service times, and whenever the church building is open.
Kudos to Judi Babcock, Anita Feld, Maria Green, Victoria Roark, Doris Smith, and Laura Wallace, whose work was on exhibit in the 2017-2018 Biennial Juried Community Art Show at the Bedford Library.  The show runs until Wednesday, January 10, 2018.
Here are three student works from Valeria Lanza's mixed media class, which will meet again this spring. All are welcome and encouraged to join.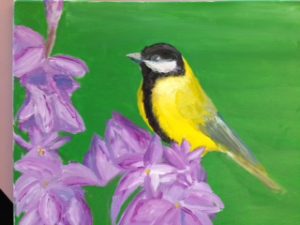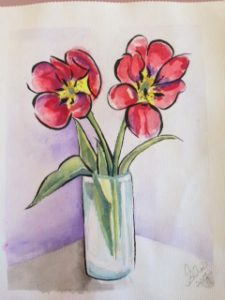 ---
Photo highlights from crafting times held at the Bedford COA on Wednesdays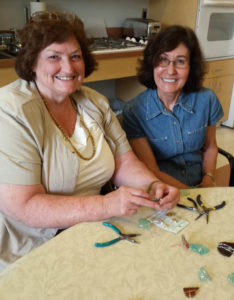 ---
---
Bedford Arts and Crafts Society Celebrates 60th Anniversary in 2016

Meanwhile, in Bedford, a group was coalescing around a shared love of the practice and appreciation of painting and crafts.
That year, local residents John Dodge, Lucia Kespert, and Margaret "Peg" Whitley began to gather for the pleasure of painting together. The trio hatched the idea of founding a group to share their enjoyment and knowledge of painting with others. Thus was born the Bedford Arts and Crafts Society (BACS), which evolved into a rich resource for local artists and crafters. BACS became the go-to place for classes, workshops, and demos through which the participants built their skills—and developed lasting friendships. The Regional Art Show, established by the late Connie Hanley in 2000, has become a signature event for BACS, much anticipated each year on Bedford Day.
On Wednesday, May 11, members of the Bedford Arts and Crafts Society gathered at Scutra Restaurant in Arlington to celebrate the 60th anniversary of BACS. We were honored to have founder John Dodge present as our special guest. John related how he studied art under the GI Bill after serving in World War II and subsequently made a living in the art business, becoming a specialist in the hand-coloring of photographic reproductions. His hand-colored works are hanging in well-known places around the world, among them the Waldorf Astoria in New York, the Palmer House in Chicago, as well as Children's Hospital and the Seaport Hotel in Boston.
The evening also featured a lively round of BACS trivia and the presentation of roses to Mr. Dodge and to several other past presidents who joined in the evening's revelry—Alba Kenney, Alyce McLaughlin, Jeanne Reidy, Evelyn Rice, and Mary Jane St. Amour.
To mark the club's anniversary, BACS will be raffling and auctioning off several one-of-a-kind artworks and crafts this year. These include a fully furnished "vintage" dollhouse painstakingly crafted by BACS members; an original, framed pastel painting by artist Denise Rainis; an original, framed pen-and-ink drawing by artist Sue Funk; and handcrafted decorative boxes. Stay tuned for further details over the coming months! And be sure to visit the BACS booth and the Regional Art Show on Bedford Day.
---
Highlights from Bedford Day, 2015

Congratulations to the Bedford Day 2015 Regional Art Show Winners. Click here for all the winners and participants.
For photo highlights click here and scroll down.
---
Contact Info: Bedford Arts and Crafts Society, P.O. Box 604, Bedford, MA 01730   Email:  info@bacsma.org
Copyright Notice:  © Bedford Arts and Crafts Society, 2017-2018. Unauthorized use and/or duplication of any of this material or downloading of any images without express and written permission from the artist and/or owner is strictly prohibited. Excerpts and links may be used, provided that full and clear credit is given to the Bedford Arts and Crafts Society with appropriate and specific direction to the original content. No images may be downloaded or used in any manner.